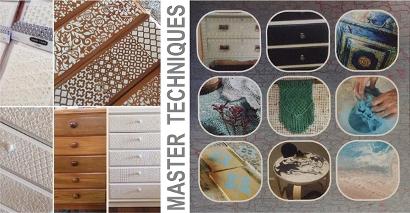 5/6hr - Masterclass Workshop - $100

Enjoy a fun-filled 5 hour workshop to learn all the 'special effects' that can be achieved with this amazing range of products.
Previous experience is recommended (Beginner Workshop)
and full tutoring is provided to learn all the special techniques:
DISTRESSING - CRACKLE EFFECT - COLOUR BLENDING - TEXTURED STENCILLING - WHITE WASH - DRY BRUSHING - COLOUR LAYERING - MARBLING - PAINTING FABRIC - MODGE TRANSFERS - PAPER/FABRIC COVERING - PEARLESCENT GLAZE EFFECT - WAX BUFFING
Save 15% on any M+F products purchased on the day - great to do all those projects you've planned....PLUS a VIP card with some great savings.
Mezzie & Frank chalk paint is 100% Australian made and is such a fabulous product. The colour palette has been chosen to reflect our Australian design style. The paint is self priming, so preparation is minimal and fuss-free: no prior sanding or priming is required on most finished surfaces.
All paint, wax, brushes and supplies are provided for use. Wear comfortable clothes suitable for painting in.
Aprons will be provided.
Upcoming dates:
Class dates for 2020 are postponed until further notice however you can get the M+F complete 'How-To' book (picture shown below).

Normally $34.95, now only $29.95 and delivered FREE within the Limestone Coast SA.

Secure On-Line Ordering HERE
...or gather a group of 4-6 friends & we can arrange for a date that suits you - Great for a birthday or celebration event when life as we know it is back to normal!
Places are strictly limited to 6, so book in early.
To book your place, call us on 08-8737 2284